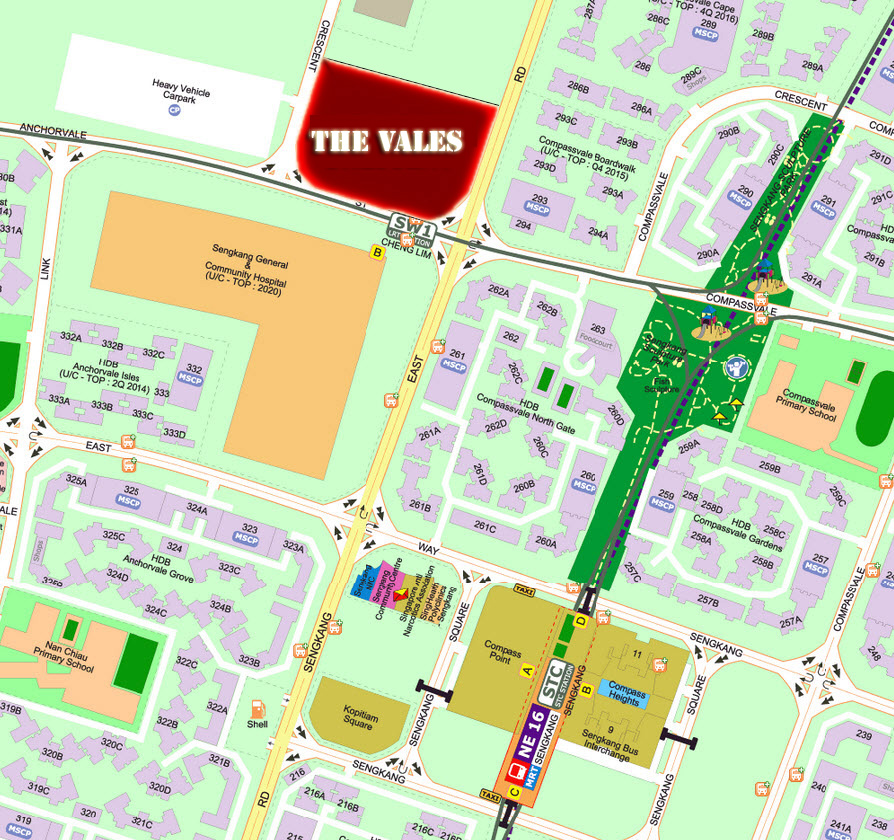 The Vales
The Vales EC is a 99-years leasehold Anchorvale Crescent EC development located at Anchorvale Crescent in District 19. With expected completion in Feb 2018, it comprises of 9 towers with approximately 517 units and stands 15 storeys tall. It is situated right beside Cheng Lim LRT Station & a stone throw away from Sengkang MRT Station. Future residents will be able to access the nearby Compass Point and Greenwich V which is a short drive away for some family fun and gatherings. A truly unique lifestyle awaits you. Please also see nearby EC Piermont Grand EC Location at Punggol. Piermont Grand is a new development that is located right in the heart of Punggol.
Bus Interchange & MRT Near The Vales EC
Cheng Lim LRT Station
Sengkang MRT Station
Shopping Mall Nearby The Vales EC
Compass Point
Rivervale Mall
Schools Nearby The Vales EC
Sengkang Green Primary School
Edgefield Secondary School
Nan Chiau Primary School
Compassvale Primary School
The Vales EC location is unparalleled as it is within 7 minutes walk from Sengkang MRT Station. It is just 550m away from Sengkang MRT Station. On top of that, many amenities near the Sengkang Centre are available for the residents to use. For residents to prefer not to walk, Cheng Lim LRT Station is right in front The Vales EC which offer exclusive convenience for the residents to use. It is also just one junction away from Tampines Expressway (TPE) and therefore it allow The Vales residents to save time while driving to and fro work especially during peak hours.
Please also take a look Plantation Close EC at Fourth Avenue Residences located near to Bukit Timah MRT Station. Fourth Avenue Residence is near to many shopping centres such as Turf City as well as other developments.
The development also provide investment potential as it is opposite Sengkang General Hospital. This make renting a breeze once the Minimum Occupational Period (MOP) is obtained.
Many other places of interest including Waterway Point which is scheduled to open in 2 years time as well as recreation venues such as Sengkang Sports and Recreation Centre are within the vicinity of The Vales EC.